① You'll need
1.Download and install Amazon Alexa App.
2.Register an Alexa account. Pair your account successfully with Echo.
Note: only those Apple IDs with United States base can search and download Alexa App in APP Store. Android users may have difficulties to pair their accounts with Echo. If you encounter any problems like this, you should consult Amazon customer services.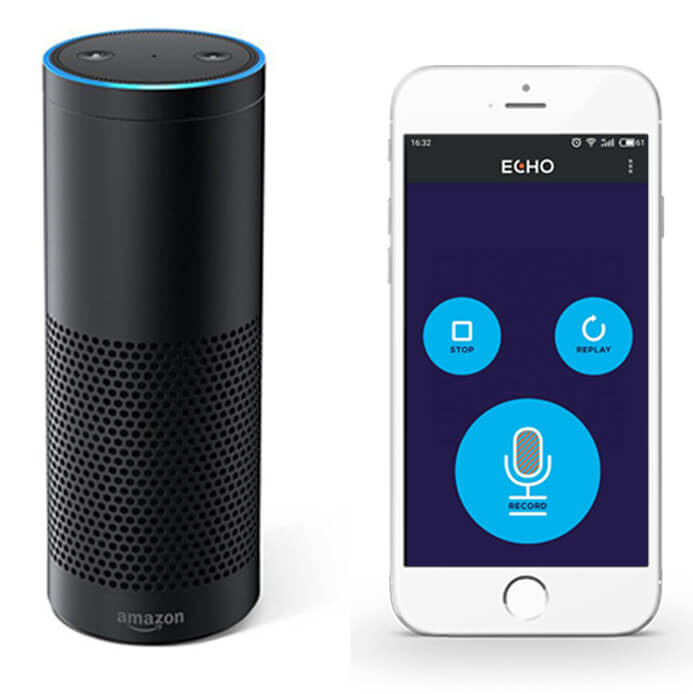 ② How to connect your Echo to your eWeLink System?
1.Open Alexa App, tap on the menu on upper left corner.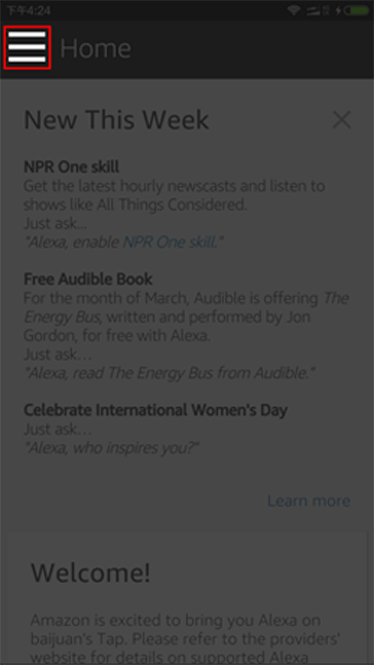 2.Go to Skills.
3.Search for "eWeLink"(in full lowercase) Skill in the search bar.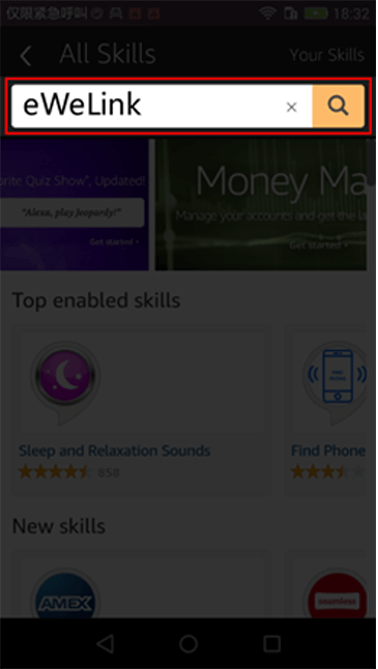 4.Tap on "eWeLink Smart Home Fan" skill.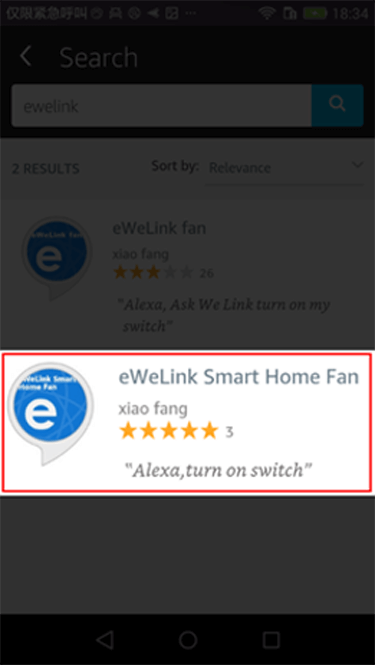 5.Enable the skill.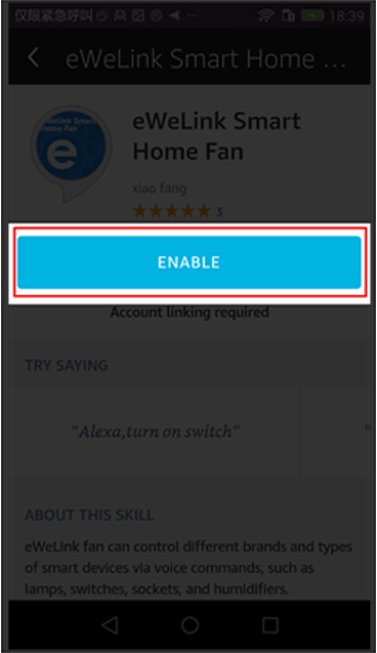 6.Enter your eWeLink account information and tap on 'Log in' to link your eWeLink account to your Amazon account. If your account is phone number, you should select your country. If your account is email address, please ignore country.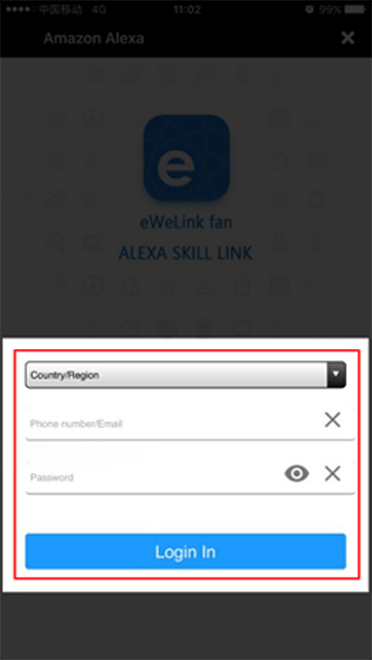 If you haven't registered any eWeLink accounts but use Facebook account to log in eWeLink, here you should log in with a designated email address and verification code.
How to get the designated account and verification code?
Open eWeLink App, go to User Center. If you are Android users, make sure you are using Version 2.3.3. On top of User Center, you'll see there is an email address (******@ewelink.me) and verification code, as shown below. Please use the designated email address as account and the verification code as password to log in SKill.
7.Your Amazon Echo is connected to your eWeLink system now. Close the page.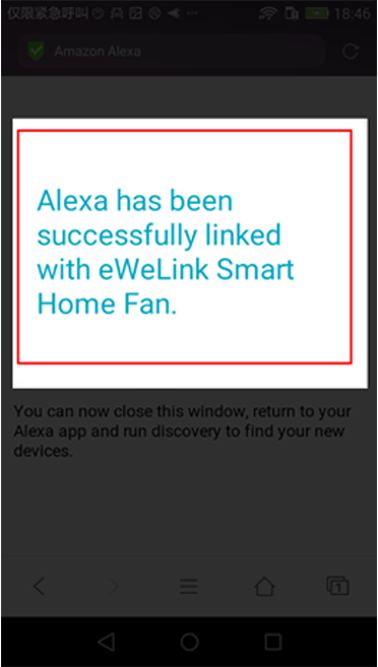 8.Please go back to skill page. There will be a prompt asking to discover devices. Tap on "DISCOVER DEVICES", you'll enter smart home center. Or you can directly enter Smart Home in the menu.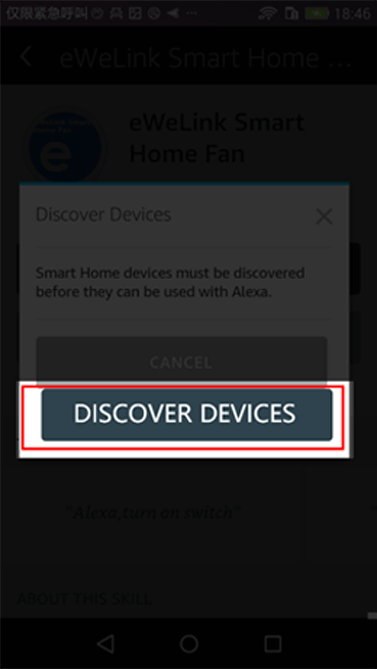 OR
9.In Smart Home, you will see the "Discover Devices" button, tap on it to start.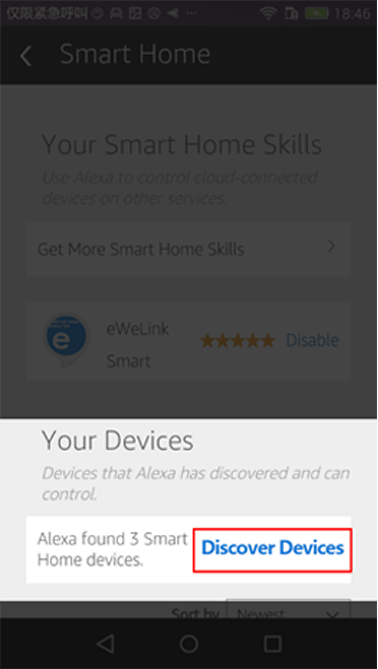 10.It comes with a progress bar.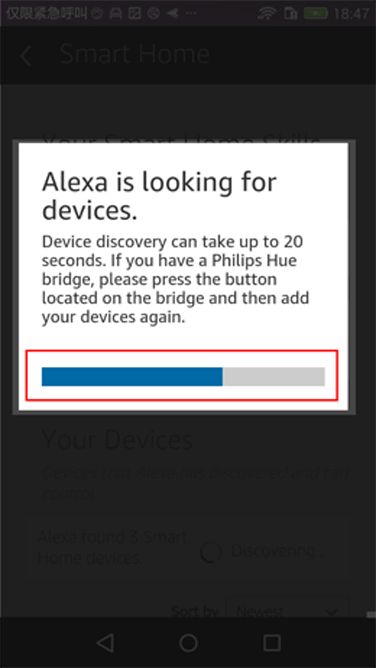 11.Once it's done. You'll see all the devices under your account. So let's get started to control them now.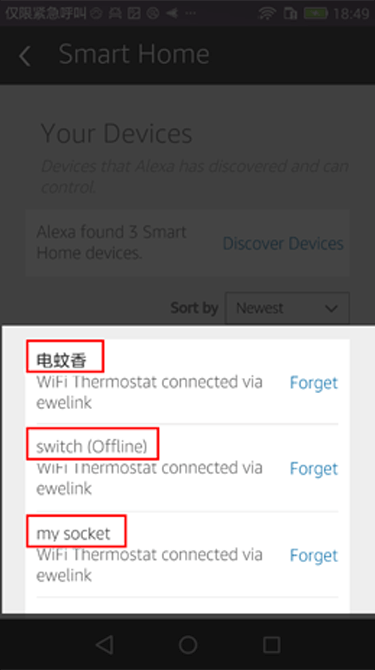 Control eWeLink devices with Alexa
Firstly, you can ask Alexa to discover devices, the command is:
Alexa, discover my smart home devices
Alexa, discover device
Alexa, find device
After about 20s, Alexa will tell you how many devices she has discovered. You can log in Alexa App, enter into"Smart Home" and check the device names.
③ Control equipment
1、The name of your devices should be in full English. No special characters or texts in other language are allowed. Please use standard name such as lamp, kitchen light, bedroom light.
2、Control equipment
Standard phrase for "eWeLink Smart Home Fan" skill:
Alexa, turn on/off {deviceName}.
( {deviceName} should be the name of your device)
You can use below phrases to control:
Alexa,turn on my device
Alexa,turn off my device
Alexa,turn my device on
Alexa,turn my device off
Alexa,turn on the my device
Alexa,turn off the my device
Alexa,put my device on
Alexa,put my device off