Sorry for the inconvenience caused.
Currently, users can only control the curtains/roller shutters by voice through the following voice commands.
Open/close <device name>
Close <device name>
Open <device name> to <50%>
Close <device name> to <50%>
Previously, when Google home did not support curtain/garage door control, electric curtain/garage door was recognized as dimmer as a workaround so our users have access to opening/closing/adjusting them. The downside is that users have to say commands for dimmer switches such as 'turn on/off/adjust' to control them, which sounds quite unnatural.
Now that Google added support for curtain/garage door control recently, eWeLink developed corresponding capabilities as soon as possible. With this update, users can now say 'open/close <device name>' or open/close <device name> to <50%> to control their blinds or garage door.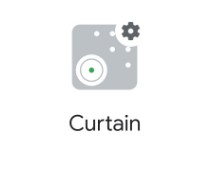 On the other hand, the support for curtains/garage doors is now restricted to voice control only. UI for this type of device has yet been developed. As a result, you may find it impossible to tap on the Google home app to control them any more.
We feel sorry for any inconvenience this may cause. We have been communicating with the Google home team and urging them to add UI support as soon as possible. As a user-oriented company, the Google home team takes user experience seriously. Therefore, you are recommended to submit feedback to the Google home team and let them know this should be prioritised. https://support.google.com/googlenest/
As a qualified Google home developer, we need to abide by the rules and catch up with Google home update. Therefore, we are unable to roll back the update. We would appreciate your kind understanding and patience.