Discover the New Access to Add Devices in the eWeLink App
The eWeLink smart home App just released version 5.0 with some great new features for adding and managing your smart devices. One of the biggest improvements is the new way to add devices to your eWeLink account. In this tutorial, we'll walk you through the new access for adding devices in eWeLink v5.0. Whether you're setting up your smart home for the first time or adding new devices to your existing system, this guide will help you get connected quickly and easily.
The New Add Device Access
An important change in v5.0 is where you access adding new devices. Previously in version 4.0, you added devices in the third tab labeled "+". Now, the access has moved to the top right corner of the Home page. Just tap "Add Device" to get started.
Quick Pairing for Most Devices
When you tap "Add Device" and enter the correct 2.4GHz WiFi password, it allows you to add most eWeLink-compatible devices through fast pairing.
Make sure the device is powered on and in pairing mode, and it will automatically search for and connect nearby devices on the same WiFi network. Fast and easy!
Steps to Add Devices Faster:
1. Open the eWeLink app and tap the "+" button to add a new device.
2. Select "Add Devices" from the menu.
3. Choose a 2.4GHz WiFi network and enter the correct password.
4. Make sure the device is turned on and in pairing mode.
Then it will automatically search the nearby devices and then add them to your eWeLink account.

More Pairing Options
If you tap "More pairing options" at the bottom, you'll enter a page like the previous "+" page with additional methods:
Bluetooth Pairing

Compatible Mode

Sound Pairing

Remote Control
By the way, you can also link accounts from here too. Two other shortcuts - "Sound Pairing" and "Link Accounts" are at the top right of the WiFi connecting page.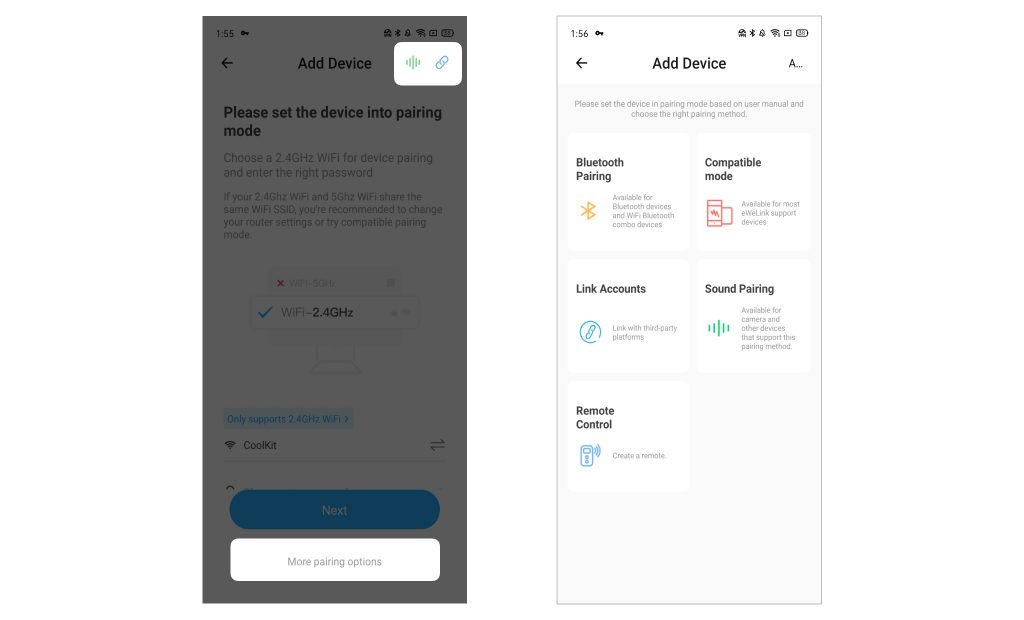 QR Code Scanning
The newest way to add devices is by scanning a QR code printed on the device or manual. Some eWeLink-supported devices have QR codes, and since eWeLink supports Matter, you can also add any Matter-certified device by scanning its QR code.
To add with QR code:
Tap the "+" button and select "Scan".

Point your camera at the QR code on the device.

The app scans the code and adds the device automatically.
No more searching for device IDs! Just scan a code for quick and easy adding. The only catch is that blurred or damaged QR code may result in manual entering of numbers or IDs.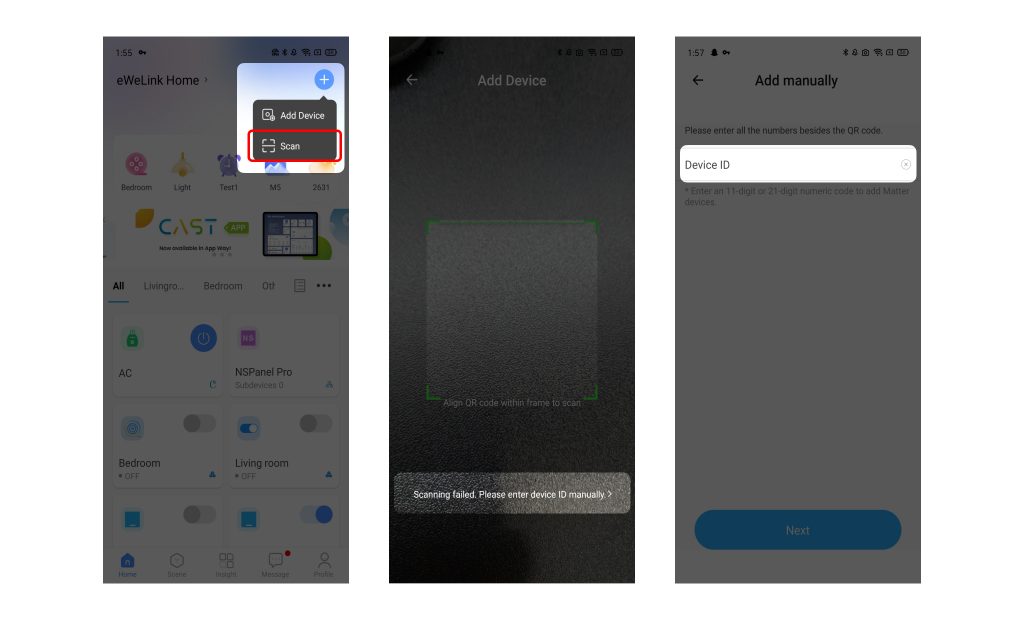 Conclusion
With fast pairing and QR code scanning, the eWeLink v5.0 app makes it easier than ever to add new devices. But manual entry is still an option if necessary. Take advantage of the optimized add-device access to build your smart home!