Get 'Insight' into Your Smart Home with the Latest Update
eWeLink is proud to unveil the latest feature – the 'Insight' tab. This addition has been carefully crafted to offer users an intuitive platform for accessing critical data such as temperature, humidity, electricity usage, and device status. Moreover, the 'Insight' tab provides a valuable utility – the ability to set random timers for specific lighting devices. Let's explore not only the exciting features of eWeLink's 'Insight' tab but also the motivations behind its creation.
Home Ambience: Temperature and Humidity Monitoring
Maintaining the right indoor climate is crucial for comfort and well-being. With 'Insight,' you can now check your home's temperature and humidity levels in real-time, thanks to the connected temperature and humidity sensors. Whether you're ensuring a cozy living room temperature or monitoring humidity in sensitive areas like the basement, the 'Home Ambience' section has you covered.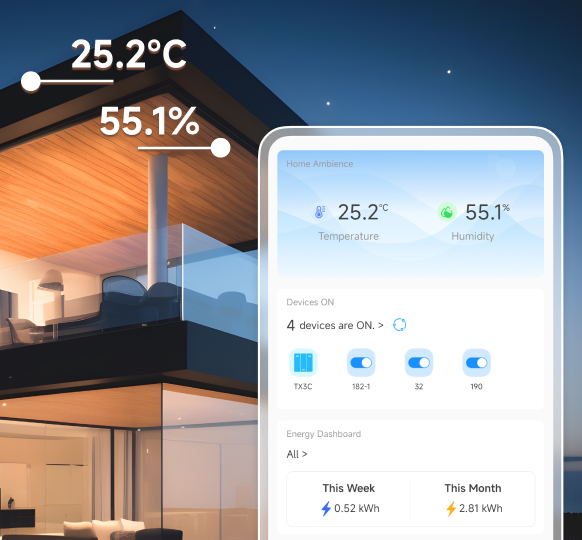 Devices On: Instant Device Status
Wondering if you left the lights on in the bedroom or if the coffee maker is still running in the kitchen? The 'Devices On' section gives you an at-a-glance view of all devices currently switched on in your smart home. It's the ultimate peace of mind feature that ensures you never waste energy unintentionally. Make use of "All Off" if you want to switch off all these devices at a time, saving you time and effort.
Energy Dashboard: Electricity Usage Tracking
Keeping track of your electricity consumption has never been easier. 'Energy Dashboard' allows you to track how much electricity specific devices or device groups are consuming. The comparison feature allows you to compare the consumption between two weeks and two months. The Dashboard also display the top 5 devices that have consumed most electricity. This section not only helps you save on your energy bills but also contributes to a greener, more sustainable lifestyle as it promotes awareness and gives control over electricity use.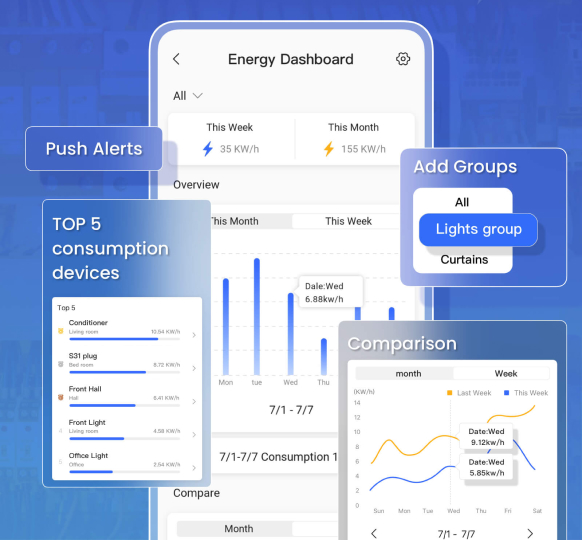 Presence Simulation: Smart Security on Your Terms
When you're away from home, it's natural to worry about security. With 'Presence Simulation' in the 'Insight' tab, you can set random timers so the lights will be turned on and off at random. This clever feature creates the illusion that someone is home, deterring potential intruders and providing you with peace of mind while you're away.
How to Make the Most of 'Insight'
Monitor and Adjust: Use the 'Home Ambience' section to ensure your home's temperature and humidity are always in the comfort zone. Adjust your heating, cooling, or humidification devices as needed. Energy Efficiency: The 'Energy Dashboard' empowers you to identify energy-hungry appliances and take action to reduce consumption. Consider setting schedules or automations to optimize elctricity usage. Enhanced Security: Leverage the 'Presence Simulation' feature to enhance your home's security. Set random timers for lights or other devices to create a lived-in appearance even when you're not there. Device Management: The 'Devices On' section simplifies device management. Quickly identify and control devices that are inadvertently left on, saving energy and ensuring device longevity.
Upgrade Your Smart Home Experience with 'Insight'
Version 5.0 of the eWeLink App introduces a powerful tool that puts control and insights into the palm of your hand. The 'Insight' tab is your go-to destination for monitoring your home's ambiance, optimizing energy usage, and enhancing security. With its user-friendly interface and real-time data, you'll have the information you need to make informed decisions and enjoy a smarter, more efficient, and secure home.
What's Coming Up
In the next update, we will add a 'Live Video' section to Insight, which allows you to view the live feed of up to three cameras. 'Live Video' would be a great addition to the 'Insight' tab as it provides an intuitive window into devices that matter in your home. Try out the new features today by updating to the latest version of eWeLink!