Unleash the Power of Search:
Discover Device and Scene Search Features
As smart homes get smarter and more devices find their way into our living spaces, managing them becomes increasingly important. We have launched search features to streamline our interactions with the devices and scenes. Today, we'll delve into the magic of "Scene Search" and "Device Search," two transformative features that make navigating your smart home a breeze.
Discovering Device Search:
At the heart of any smart home are the devices that populate it – lights, air conditioners, heaters, curtains, and more. But as the number of smart devices grows, finding the one you want to control can feel like finding a needle in a haystack. This is where eWeLink's Device Search comes in. It provides a simple, user-friendly interface that lets you quickly find the device you're looking for. Just tap on the search icon, type in the name of the device, and voila, there it is! No more scrolling through an endless list of devices. This feature not only saves time but also enhances the overall user experience, especially for homes with a large number of smart devices. Please update to eWeLink App V4.33 to try it out.
Unlocking Convenience with Scene Search:
With the new Scene Search feature, you can now search for scenes by name, just like you would with a device. Instead of manually browsing through your created scenes, simply type in the name of the scene you want to activate. This comes in handy when you have numerous scenes or if you're just in a hurry. It's all about making your smart home controls as efficient and convenient as possible.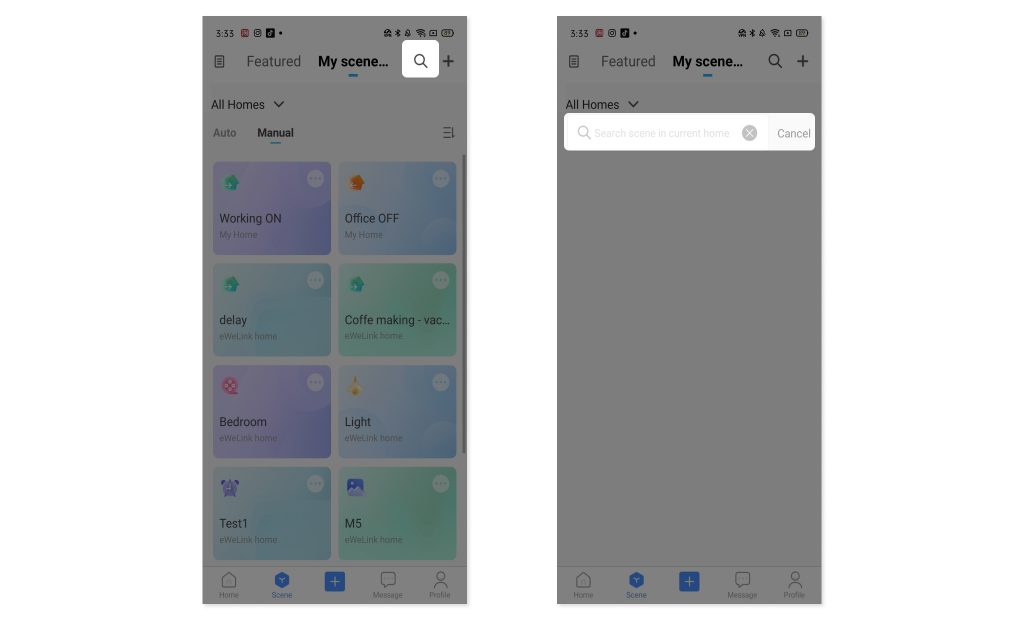 eWeLink's Device and Scene Search features exemplify their ongoing commitment to improving smart home automation, providing users with easier and faster control over their devices and scenes. By mastering these features, you'll make navigating your smart home as easy as typing in a name. So, gear up and get ready to enjoy an enhanced and simplified smart home experience with eWeLink!
Notes:
iOS users will be able to unlock Device Search feature after the eWeLink App V4.33 released on App Store at the end of June.