Share Your Smart Home With Ease
- New Features in Home Sharing
Home Sharing has been rolled out for years and it's a commonly used feature among eWeLink users. These years we collected a bunch of suggestions and ideas to enhance Home Sharing features. We've implemented the most requested ones in eWeLink App version 5.0.
What is Home Sharing
eWeLink's Home Sharing allows users to share access to their Homes on their eWeLink account with others. When sharing a Home, the account owner shall set a role for the shared user in the Home, such as a Member or Guest. Users can control how long shared users have access to the Home by setting the roles. After sharing the Home, shared users are granted full control of all the manual scenes and devices in that home. For example, share home access with parents when away on business trips, so parents can conveniently use the app to control devices as well as manual scenes and care for the home. Users can cancel home sharing or remove shared users from the Home anytime if they think shared users no longer need to access the Home.
Introduction of the "Guest" and "Member" Roles
With the eWeLink App v5.0 update, the "Guest" role and "Member" role have been introduced for Home Sharing. "Guest" role, in particular, refers to a time limit for their access, such as one week or one month. After the set time expires, the shared access is automatically revoked, avoiding the need to manually remove access.
In contrast, the "Member" role grants permanent access to the Home, ensuring that the assigned individual can control the devices and manual scenes at any time. If you share your eWeLink Home with families and want to provide them with unrestricted access, you can easily set their role as "Member".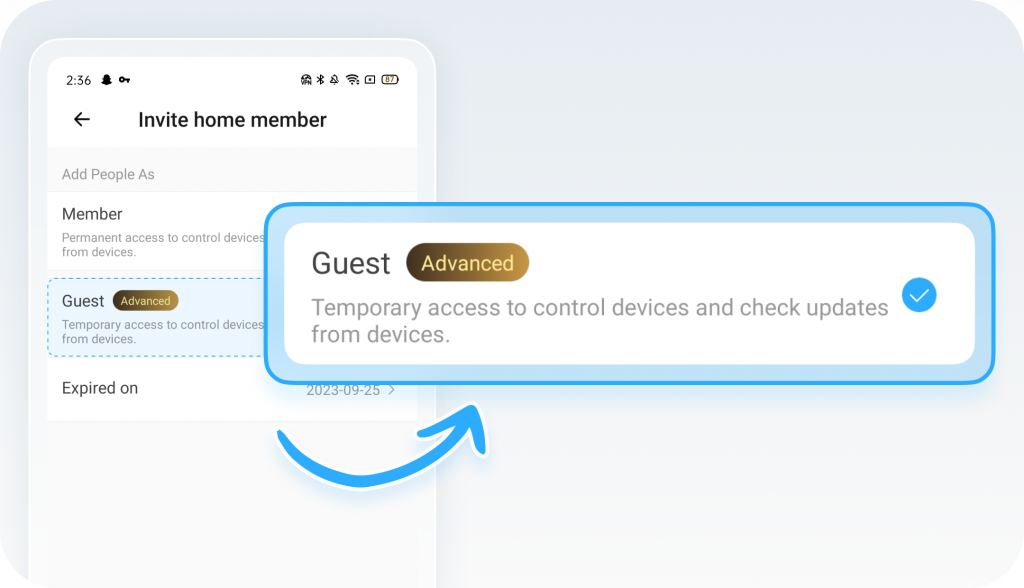 Significance of "Guest" Role
The ability to set time limits for guests provides flexible and precise control over home access. For instance, you don't need to permanently share your Home with visitors, tenants, or employees. Therefore, temporary access to your Home is necessary. When sharing Home with them, assign their roles as "Guest" and set a duration for their access. Access expires automatically, eliminating the risks of forgetting to revoke access.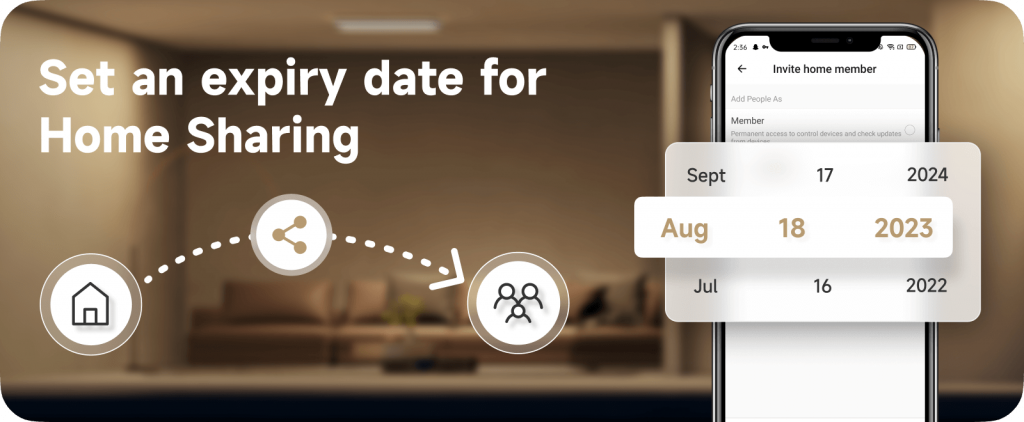 Roles Modification
It's worth noting that the roles you assign to shared users are not set in stone, and you can modify them if necessary. For instance, you have the flexibility to switch roles between shared users, allowing for seamless adjustments to access privileges.
How to Unlock the "Guest" Role
To assign the "Guest" role to shared users, an eWeLink Advanced Plan subscription is required. In addition to the Guest role, Advanced Plan subscribers enjoy expanded Home Sharing benefits, including the ability to create 10 homes and share 10 homes, with each home shareable with up to 10 people. Compare this to free users who can only create 5 homes, share 5 homes, and share each home with 5 people maximum.
The new Home Sharing features introduce more convenient and flexible access control for eWeLink users. With the Guest role and time-limited access, users can precisely manage shared access to their homes, in a secure yet convenient manner.