Shenzhen, Nov 20, 2020, 10:51 a.m. GMT+8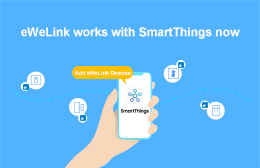 eWeLink, a global leading smart home solution provider announced profound cooperation with Samsung SmartThings, an industry leader for consumer IoT technology, rendering hundreds of eWeLink Support brands( devices in the eWeLink Internet of Things ecosystem) and thousands of eWeLink Support devices accessible to SmartThings users. eWeLink has obtained the Work with SmartThings (WWST) certificate and is paving the way for a quick path for certification for all device makers working with eWeLink.
The integration with SmartThings is a milestone to eWeLink's mission to work with everything. eWeLink team keeps breaking boundaries of different home automation brands and devices, to empower cross-brand interoperation and cross-platform interaction.
'The collaboration between eWeLink and SmartThings is great news for both eWeLink users and SmartThings users.' said the eWeLink R&D team. "Consumers will find it as easy as pressing buttons to connect with the SmartThings app and to control their devices in the SmartThings app seamlessly. "
SmartThings consumers will have a wider range of choices of smart home categories and home automation devices. It is also more convenient for Samsung users to build a fully interconnect and interoperating smart home. On the other hand, eWeLink devices become compatible with the SmartThings app, allowing users to leverage the advantages of both apps.
About eWeLink
eWeLink is a full-fledged IoT Smart Home turnkey solution provider for WiFi/Zigbee/GSM/Bluetooth module and firmware, PCBA hardware, global IoT SaaS platform, and open API, etc. eWeLink empowers brands launching their own smart devices at minimal time and cost. eWeLink is committed to working with everything. eWeLink Support products cover home appliances, electricians, lighting devices, security, sensors, and many other fields. All eWeLink Support devices can connect and work with Amazon Alexa, Google Assistant, Yandex Alice, AliGenie, DuerOS, Mi Home, IFTTT, and many other platforms.
CONTACT: jewel.deng@coolkit.cn
SOURCE CoolKit Technology
Related Links