Shenzhen, Jan 15, 2021 eWeLink, a leading global IoT solution provider, today announced that it had been recognized by Google Assistant as one of the Authorized Solution Providers for the smart home. Smart home solution providers are assessed by Google to be trustworthy and knowledgeable partners with the necessary specialized skill set to help developers build smart home Actions for the Google Assistant.
eWeLink team has demonstrated continued commitment to excellence and pursuit to customer satisfaction since 2017, the first time when eWeLink started to work with Google Assistant. Throughout the years, eWeLink has served over 2000 device makers and empowered over 20 actions for clients over the world. As a Google Assistant authorized smart home solution provider, it only takes 10 days for eWeLink to help partners pass the WWGA certification and obtain the badge. In addition to quick access to the certification process, eWeLink also offers all-round turnkey IoT solutions of major network protocols, to help partners to bring their products to market with lower cost, less time, and less effort.
As eWeLink becomes an authorized solution provider and collaboration between eWeLink and Google goes further, customer orientation, high-performing team, cutting-edge innovation continue to drive customer success and best business outcome for partners.
Until now, there are only two authorized solution providers acknowledged by Google globally. The Authorized Solution Program is designed by Google to help developers quickly find solution providers that have shown a high level of expertise and skills and are able to provide a full range of help.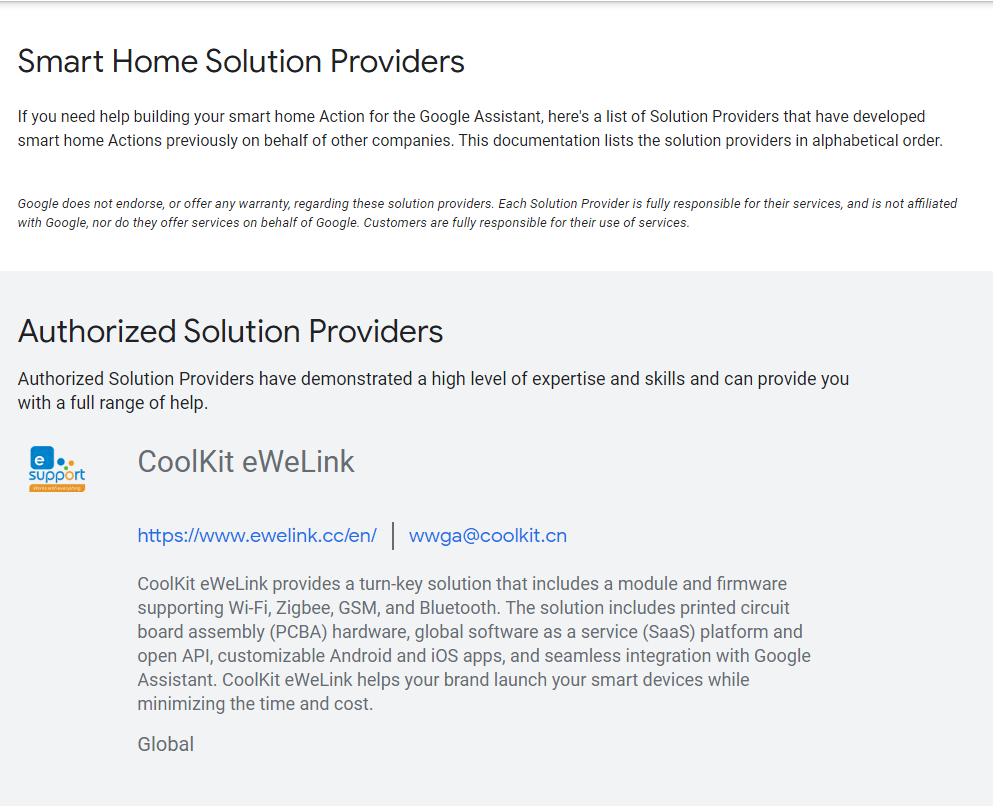 About eWeLink
eWeLink is a full-fledged IoT Smart Home turnkey solution provider for WiFi/Zigbee/GSM/Bluetooth module and firmware, PCBA hardware, global IoT SaaS platform, and open API, etc. eWeLink empowers brands launching their own smart devices at minimal time and cost. eWeLink is committed to working with everything. eWeLink Support products cover home appliances, electricians, lighting devices, security, sensors, and many other fields. All eWeLink Support devices can connect and work with Google Assistant, Amazon Alexa, Yandex Alice, AliGenie, DuerOS, Mi Home, IFTTT, and many other platforms.
CONTACT: natalia.long@coolkit.cn
SOURCE CoolKit Technology
Related Links
www.ewelink.cc/en